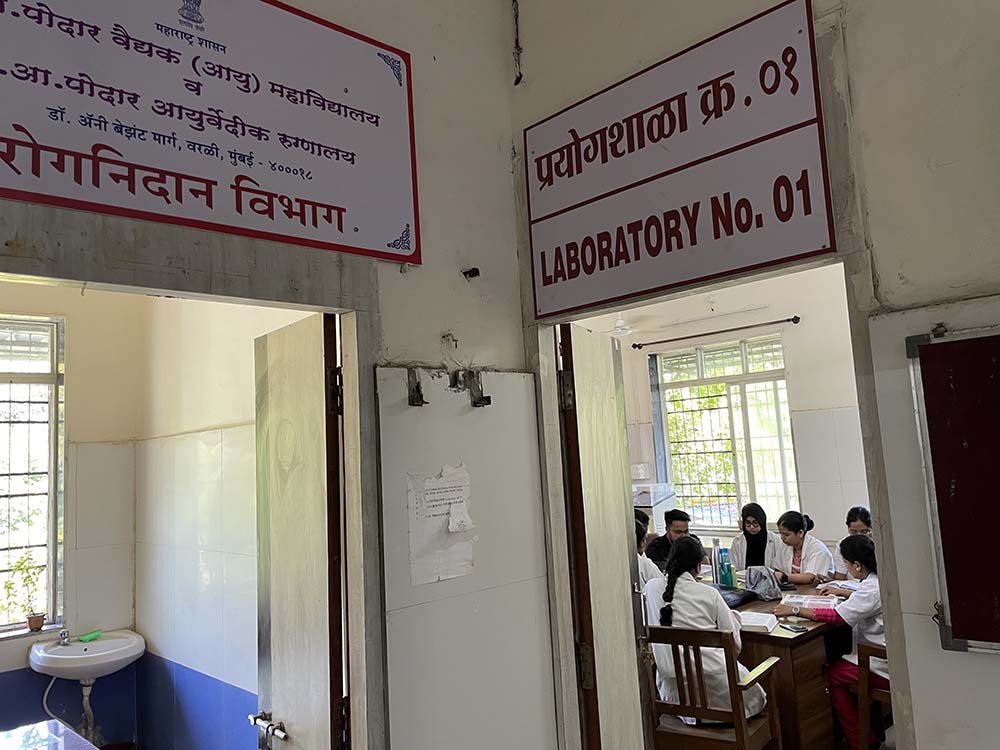 Rognidan and Vikruti vigyan deals with the pathophysiology The one which gives pain to body is called roga, Nidana means the factors responsible for producing disease ie. etiological factors the disease. The diagnosis of the disease is also one of the important factors in Rognidan. "The science with describes roga by means of nidana, purvaroopa, roopa, samprapthi,upashaya,anupashaya,and sadhyaasadhyata is called Roganidana and Vikriti Vijnana"

This subject is a very integral part of every clinical subject. It helps to understand the disease(Vyadhi vigyanam) and it's pathogenesis (Samprapti Vigyan), the science of Clinical examintion methods (Rugna Pariksha Vidhi), sign & symptoms or clinical features of the disease, required investigations(Vyadhi Pariksha Vidhi) and the interpretation of the results. This subject also deals with the prognosis (Sadhya-Asadhyatva) of any disease.
| | | |
| --- | --- | --- |
| Sr.no. | Faculty name | Designation |
| 1. | Dr. Santosh G. Girbide | Professor & HOD |
| 2. | Dr. Jyoti V. Meghdambar | Associate professor |
| 3. | Dr. Sandeep D. Kale | Assistant professor |
| 4. | Dr. Pooja R. Singh | Assistant professor |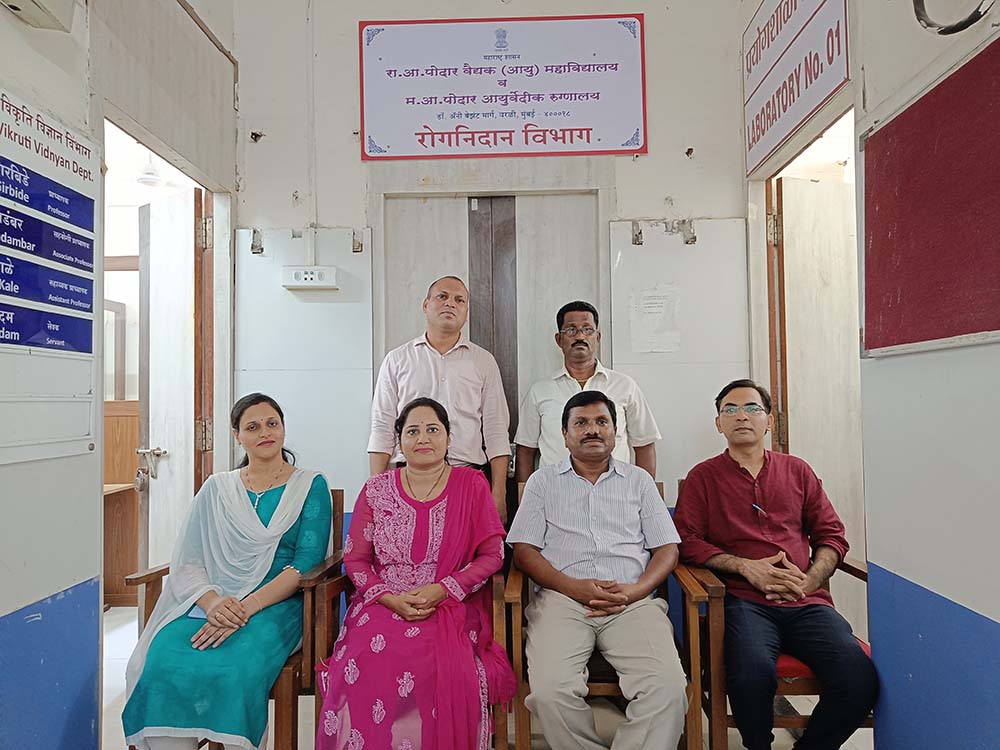 R.A. Podar Medical (Ayu.) College has a full fledge U.G. & P.G. Department in Rognidan consisting of the Student's Laboratory. The Clinical examination and tests demonstrations are conducted in the wards and the department.
P.G. Course M.D. Rognidan is conducted here. Department consists the departmental library for the same. Also the Intra departmental seminar is conducted in the Seminar hall.
The P.G. students get posted in the Pathology and Serology laboratory & Biochemistry laboratory of the M.A. Podar Hospital and get well verse with the diagnostic methods used in the patients. Average 1000 tests are performed in the Clinical laboratory per month.
Also the department has a new Artificial intelligence based diagnostic technology in use i.e. Nadi Tarangini
Nadi Tarangini is a tool for Nadi pariksha and assessment of the patient's Vikruti at that moment.
The Application of Nadi Tarangini with the help of the Nadi port with sensors assess the Nadi in wave form and then reports the Nadi gati, guna, etc. Also it recommends the diet and lifestyle changes for that particular reading. Average 150 patients are assessed on this machine per month.
P.G. Course (M.D. Rognidan & Vikruti Vigyan) capacity- 3 students per year.
Papers published (Recent):

1. Dr. Santosh G. Girbide


Title of Article

Name of Publication

1)"Review Of Ayurvedic And Modern Prospective Of Amlapitta Vyadhi"

2)"Conceptual Review On Child Care: An Ayurvedic Perspective

WJAHR;
IAMJ
2. Dr. Jyoti V. Meghdambar
Title of Article

Name of Publication

1)"The Literature Review Of Prameha"
2) "Shatkriyakala With Special Reference To Breast Cancer"

WJAHR

Presentations
Presented a Paper on Manasvikara in Ayurmanobodh, National Seminar held on 3rd February 2019, organised by Ayurved Vyaspeeth, Nashik.
Presented a Paper in the National Workshop cum training Programme on Cancer held on 25th and 26th September 2019, organised by National Institute of Ayurveda, Jaipur.

Training
Attended training / CME on Integrative Oncology held on 6/12/2022 to 11/12/2022 co-ordinated by Rashtriya Ayurveda Vidyapeeth.
3. Dr. Sandeep D. Kale


Title of Article

Name of Publication

1)Conceptual Study Of Blood Color

2) Blood Color Shade Identification With The Help Of Red Color Shade Strip

WJAHR
Presentations
1. Title- Ayurved Diagnosis System Need to Overcome Subjective Error; Dated-22/Aug/2019, presented in "Ayurvedanveshanam", World Ayush EXPO 2019 & Arogya, National Conference on research on Ayurveda.
2. Title- Pain Management- An Ayurvedic Approach; Dated- 5/Jan/2020, presented in National level conference organized by NIMA.
Training
IT Training for AYUSH Professionals, conducted at C-DAC Pune, From 1st July for duration of 4 weeks
4. Dr. Pooja R. Singh
Title of Article

Name of Publication

1)Ageing in Sthool- Ayurvedic Perspective

2) Management of Ekakushtha (Psoriasis) By Nidana Parivarjana, Raktamokshana and Shamana Chikitsa- A Case Report

IJAAM
IJAPC
Presentation
Paper presented on "Role of Nidanaparivarjana in Grahani (Lifestyle disorder)" in the National Seminar 'Ayurveda Wisdom-A Solution for Lifestyle Disorders', organised by Directorate of AYUSH Maharashtra State.
Awards
Dr. Jyoti V. Meghdambar
1. Awarded by, Dr.APJ Abdul Kalam Award for Teaching Excellence 2019, on 23 November 2019, from Marina Labs, Chennai, Bangalore.
2. Awarded by, Marathwada Bhushan Award, on 8/12/2019, for noble work for society, in Nanded and periphery by Vanita Vikas Bahudeshiya Mahila Mandal, Nanded.
| | | | |
| --- | --- | --- | --- |
| Sr.no. | Student | Dissertation | Academic year |
| 1 | Dr. Sanjukta Deshmukh | "An Observational Cross Sectional to Determine Occurrence of Vatarakta in Bike Riders". | Year 2020-21 |
| 2. | Dr. Geeta Muluk | "An Observational and Analytical Study of Urine Analysis in the Patients Consuming Santarpanajanya Hetu with Special Reference to Mutrakruchhra". | Year 2020-21 |
| 3. | Dr. Swati Wasnik | "An Observational and Analytical Study of Urine Physiochemical Examination in the Sthool and Krush Madhumeha". | Year 2020-21 |
| 4. | Dr. Maithili Dhulap | "An Observational Cross-Sectional Study of Shadrupa Rajayakshma in Acid-Fast Bacilli Sputum Positive Patients". | Year 2021-22 |
| 5. | Dr. Deepmala Tripathi | "An Observational Cross-Sectional Study to Determine Occurrence of Mutrakruchhra in Bus Drivers". | Year 2021-22 |
| 6. | Dr. Himani Giri | "An Observational Study of Pattern of ECG findings in Patients Of Pandu Roga With Special Reeference to Anaemia". | Year 2021-22 |