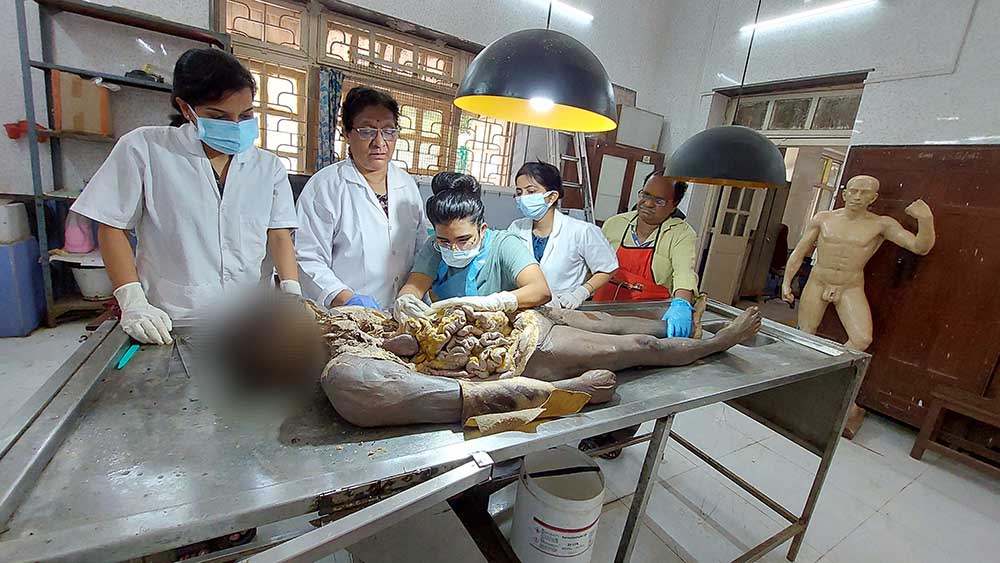 The department of Rachana Sharir deals with the Fundamental subject and requires thorough orientation as it makes the basic pillars of studies in Ayurveda. It is taught along with Modern Anatomy as per curriculum of BAMS course as per the NCISM guidelines to train the students of UG and PG courses by virtue of thorough Human cadaveric dissection along with theoretical and practical aspects of Ayurvedeeya Sharir and Clinical/ Applied aspects of this fundamental subject.
The department conduct research activities through Post graduate and Ph. D. course in Rachana Sharir.
The department consists of a highly qualified team and dedicated staff with PG teacher recognition.
A well ventilated and spacious Dissection Hall having all the basic amenities required.
A maintained and Well-developed Museum of Anatomy developed by the faculties themselves which contains required number of Specimens, Models, Charts, etc. for study purpose.
Body donation activity whereby there is no shortage of Cadavers for dissection purpose.
Department has separate PG section to conduct MD (Ayurved – Rachana Sharir) course and Ph. D. (Ayurved – Rachana Sharir) Post-doctoral degree course.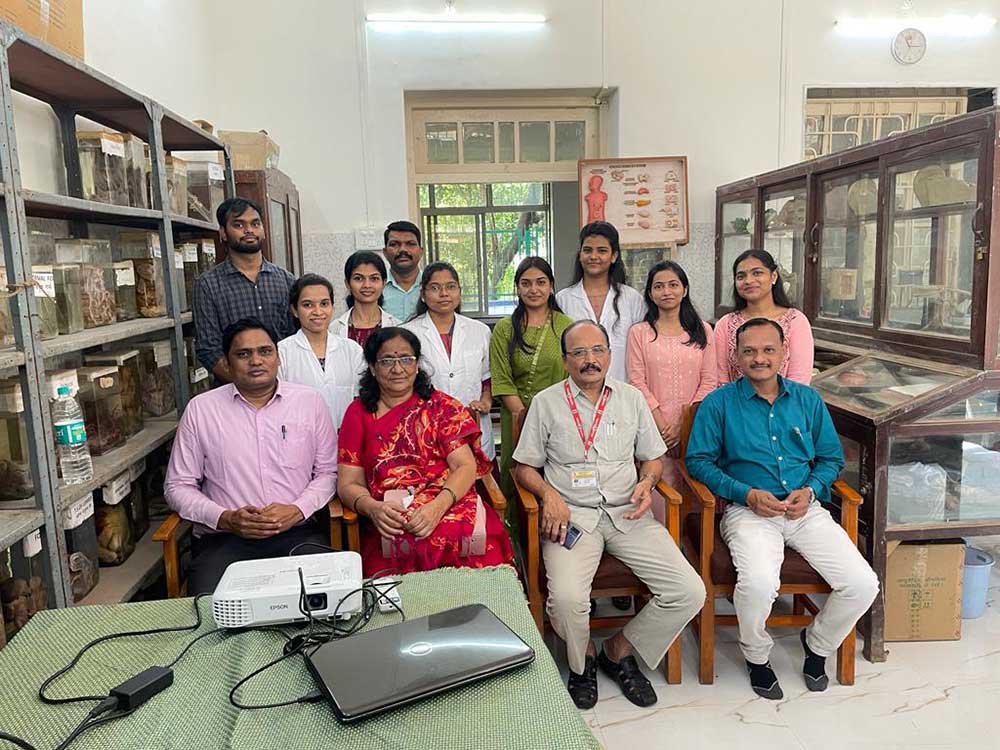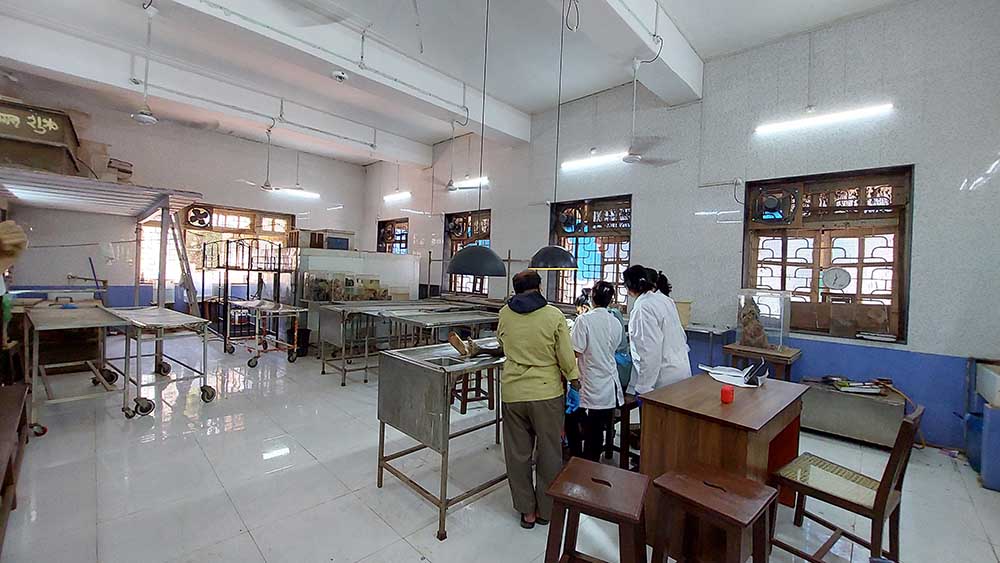 | | |
| --- | --- |
| Name of Faculty | Designation |
| Dr. Jayshree Mhaisekar | Professor |
| Dr. Gurunath Khanolkar | Associate Professor |
| Dr. Kishorkumar Madavi | Assistant Professor |
| Dr. Dnyaneshwar Meshram | Assistant Professor |
| Dr. Pooja R. Sharma | Assistant Professor |
Academic Programmes Conducted
1. A Lecture Organized on Organ Donation under Organ Donation Awareness Programme
Topic: Organ Donation and Body Donation
Papers Published:


| | | | |
| --- | --- | --- | --- |
| Sr.No. | Name of faculties | Title of Article | Name of Publication |
| 1. | Dr. Jayshree Mhaisekar | Musculoskeletal ailment with special focus on Snayu Marma: A Review | IJRAP |
| | | Understanding Ardhavabhedaka (Migrane) in Ayurveda: A Review | IJRAP |
| 2. | Dr. Gurunath Khanolkar | A conceptual study of amsa marma with special reference to frozen shoulder: A review; Vol.14, Issue-2, ISSN online 2229, Pg No.: 128-132 | IJRAP |
| | | Review of Guda Sharir according to Ayurveda | American Journal of Pharmtech Research |
| 3. | Dr. Kishorkumar Madavi | A Review of the posterior aspect of Greeva Sharir and its importance; Vol.14, Issue-2, ISSN online 2229, Pg No.: 99-113 | IJRAP |
| 4. | Dr. Dnyaneshwar Meshram | A conceptual review of role of shunthyadi kwath in mandagni | WJPR |
| 5. | Dr. Pooja R. Sharma | Role of Diet and Lifestyle in the Prevention and Management of Diabetes Mellitus: A Review; Vol 5, Issue 4, Sep-Oct 2021, Page No. 276-282 | IJAAR |

Pg Scholars And Their On-going Dissertation:


| | | | |
| --- | --- | --- | --- |
| Sr.No | Title Of Dissertation | Name of PG Schloar | Name of Guide |
| 1. | "A Cross Sectional Study To Evaluate Anatomical Changes In Greevakasheruka (Cervical Spine) In Academic Students Withn Neck Pain. | Dr.Sanjivani Narsingrao Kadam | Dr. Gurunath D. Khanolkar |
| 2. | A Cross Sectional Study To Evaluate The Anatomical Changes In Kati Kasheruka Due To Excessive Sitting. | Dr. Pratima A. Gujar | Dr, Kishorkumar Madavi |
| 3. | A Cross Sectional Study Of Structural Changes In Parvsandhi And Hastanguli In Computer Keyboard Users After 10 Years Of Working. | Dr. Shweta Sanjay Shete | Dr. Dnyaneshwar Meshram |
| 4. | "A Conceptual Study On Anatomical Co-Relation Between Coeliac Plexus And Manipura Chakra- A Cadaveric Study" | Dr. Apurva Bhagwat Jagtap | Dr. Gurunath D. Khanolkar |
| 5. | Conceptual study of anatomical co-relation between carotid plexus and vishuddha chakra- a Cadaveric study | Dr. Shruti Dilip Phadatare | Dr. Gurunath D. Khanolkar |
| 6. | A Cadaverivc Study- To evaluate the anatomical structures of Apanga Marma | Dr. Rushali Rupchand Awarashe | Dr. Kishorkumar Madavi |