Sr.no.
Days
Consultant in OPD
1)
Monday &
Thursday
Vd. Manoj Gaikwad
Vd. Rekha Kuwar
2)
Tuesday &
Friday
Vd. Rutuja Gaikwad
Vd. Prachi Prabhukhanolkar
3)
Wednesday & Saturday
Vd. Prashant Dalvi
Vd. Amruta Mishra
Vd. Shubhada Hake
Stri Roga and Prasuti Tantra is a branch of Ayurveda dealing with Stri Roga (Gynaecological disorders) and Prasuti (Obstetrics).
It is the branch that originates with the concept of maintenance of the physical and mental health of a woman throughout various stages of her life
The Department of Prasuti tantra Evum StreeRoga (Obstetrics and Gynaecology is one of the evolving branche of M .A Podar Hospital since its establishment.The Department is committed to provide refine standard of care in the sector of women's health from menarche to menopause along with a strong research foundation and revolutionary teaching skills .
The department, over the years has grown pace progressively with ever increasing advances in the world of ayurveda medicine .On an average about 600 and more patients are been attended and treated in a month.It is renowned for treating patients of Infertilty and preconceptional Care through Ayurveda ,various Detoxification procedures ,Garbhsanskar and Suprajanan care and treatment etc and giving a thorough nursing care to various other diseases in Obstetrics and Gynaecology .The Department timely runs various social activities regarding women's health through conduction of Menstrual Hygiene awarness in Schools as well as organizing camps spcialized for women providing cost free treatment and diagnostic modalities available .
In addition to providing the best patient care, the department under a dynamic and skilled leadership, thrives to maintain excellent calibre of research and also train the young doctors to become experts in the concern field.
Currently, the department of Prasuti and Stri Roga has robust Teaching and Training programmes for Ph.D. (Ayurveda), Post-Graduation (M.S. Ayurveda), Undergraduation (BAMS) Admission to post graduate courses is quite coveted and students from all over the country compete in an All India entrance examination AIAPGET . Postgraduate course (MS Prasuti tantra Evum StreeRoga ) is of three years duration and includes a thesis. The department conducts orientation program of one week for these newly joined junior residents to make them familiar with the working protocols .
Apart from the Post graduate and subspeciality courses the department offers training to the senior residents who obtain an overall comprehensive experience in all the sub specialties of Prasutitantra Evum Stree roga. Online and hybrid teaching mode was adopted during Covid. Several skill based modules have been prepared for the undergraduate teaching.
Currently there are more than 20 projects in the department ongoing which are funded/ nonfunded including thesis and dissertations. Currently department is run under the supervision of Head, Prof.Dr Manoj Gaikwad , one Associate professor (Dr. Prashant Dalvi), three Assistant professors ( Dr. Rutuja gaikwad, Dr. Prachi Prabhukhanolkar, Dr Shubhada hake ) with supporting technical and non teaching staffs.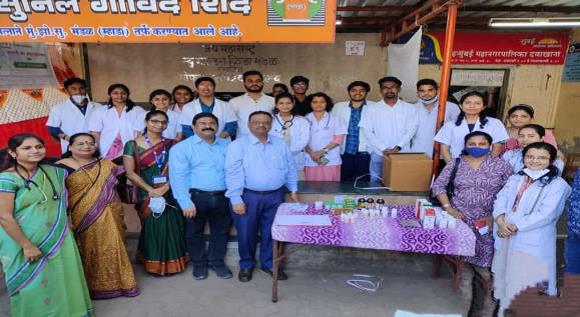 | | |
| --- | --- |
| Facuties | Designation |
| Dr. Manoj Vitthal Gaikwad, (BAMS,MS ,Phd in Prasuti Tantra Evum Streeroga) | HOD and Professor |
| Dr. Prashant Dalvi, (BAMS,MS ,Phd Scholar in Prasuti Tantra Evum Streeroga) | Associate Professor |
| Dr. Rutuja Gaikwad, (BAMS,MS ,Phd Scholar in Prasuti Tantra Evum Streeroga) | Assistant Professor |
| Dr. Prachi Prabhukhanolkar (BAMS,MS ,Phd Scholar in Prasuti Tantra Evum Streeroga) | Assistant Professor |
| Dr. Shubhada Hake, (BAMS,MS ,Phd Scholar in Prasuti Tantra Evum Streeroga) | Assistant Professor |
Speciality Courses Available
Post graduation (Capacity :5 seats/year)
Doctor of Philosophy ( Capacity :9 seats )
1) Ante-natal care
Physical examination ,Haematological Investigations ,Ultrasonography,T.T. Immunization
Garbhasanskar , Monthwise Treatment For Pregnant lady ,Counselling on Nutrition, Yoga for Pregnancy ,Birth Preparedness , ,Ayurvedic Provisions For Normal Delivery ,Management of Normal delivery ,Ayurvedic Treatment For IUGR, Oligohydramnios, Polyhydramnios.
Management of vomiting, Abdominal pain, pedal edema & other symptoms in pregnant women.
Screening Of High Risk Pregnancy


2) Gynaecological Patients
Male & Female Infertility Management
Management of Menstrual Disorders, pcos/pcod ,Management of Uterine Fibroid
Treatment For TORCH Infection
Treatment for post menopausal symptoms
Management of vulval, vaginal, cervical infections , Leucorhoea, Menorrhagia
Management of breast disease
Suprajanan: Treatment & Counselling for better progeny
Management for male sexual disorders
Counselling for above mentioned diseases about diet exercise, yoga
In-situ local treatments (Sthanika Chikitsa)
Panchkarma including Uttar basti (inuterine Medicine instillation)

3) Post natal care
Medication for health recovery Counselling for diet, health & contraception as well as breast feeding
Contraceptive Methods :Cu 'T' Insertion on OPD basis ,Provide OC Pills ,Provide Condoms for male,Counselling for planning .
Medication to obtain normal health
Guidance for breast feeding, local hygience & diet
Counselling for family planning


4) Surgeries
Diagnostic D & C ,LSCS ,Hysterectomy ,Abdominal & Vaginal ,Cervical OS Tightening ,TOT


5) Special procedures
HSG (Hysterosalphingography ),NST (Non stress Test in pregnancy),Kshar application ,Vaginal swab culture -PAP smear .